As a woman/nonbinary-owned business that focuses on written content, Allegro Solutions partners with other woman/nonbinary-owned companies that provide additional supporting services like website development, video content, and graphic design.
Our partners know the cybersecurity space and offer services supporting our content to complete your squad and meet all your cybersecurity marketing needs.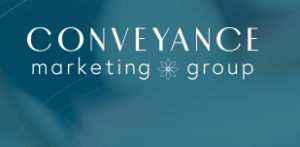 Conveyance cultivates meaningful, long-term relationships with clients by working with them to understand client product services, unique selling propositions, and target customers. Then, we work with clients to develop a memorable brand and effective multi-channel campaigns that fuel business growth and turn customers into a company's best-selling salespeople. We help clients achieve real, measurable success and offer the following:
• Strategy and planning
• Messaging
• Asset development
• Sales-marketing automation
• Analysis and reporting
• Brand awareness building
• Customer attraction
• Customer engagement
• Customer retention
Sky Kennedy, owner of Studio Sky Video, has over 5 years in the cybersecurity space. She believes that engaging and educational video marketing content can drive revenue and promote greater cybersecurity awareness which leads to better data security and privacy overall.
Studio Sky Video specializes in utilizing new and repurposed video footage to visually elevate, emotionally engage, and intellectually captivate target audiences by resonating with their hearts and minds.
Their video animation, video editing, and content creation house prioritizes delivering outstanding creative video content that meets scheduling and budgeting needs.
The professionally designed, animated, edited, and created high-quality video can be used across multiple channels including  social media, client success, advocacy, sales, conferences and the web to effectively help brands and companies grow business and return investment.
Connie "Sunfire" Hill, co-owner of Hitsaru, LLC, is a web developer focused on security and accessibility. Hitsaru is a consulting firm that specializes in innformation security and related technologies. The company focuses on helping small businesses and nonprofits establish and enforce a robust security posture and mindset while maintaining a professional image through their website.
Sunfire has worked with the Diana Initiative, a cybersecurity conference focused on boosting women in the industry, rebuilding and then managing their website for over 2 years.
Their web development experience is focused on
HTML5
CSS3
JavaScript
PHP
WordPress
Services include:
new website development
existing website overhauls
ongoing maintenance and security monitoring.
Britney N. Mack is a content designer  with a background in marketing communications.
She has a passion for inclusive language and likes taking a comprehensive approach to help build experiences at the brand, customer, and user experience levels.
In her day job, she helps B2B customers understand how IoT and AR solutions can meet their business needs.
Melanie Warner, the owner of Hotiron Creative, designs logos for ridiculously brilliant people. She loves clever, thoughtful design that is visually striking, deceptively simple, meticulously executed, flexible, durable, and meaningful. Her award-winning designs can be found across Fortune 100 companies, including a multi-million dollar audio brand.
She focuses on the cybersecurity space, working with security researchers and conferences, including:
Alyssa Miller
BSides Las Vegas
Circle City Con
DEFCON: Blue Team Village
DEFCON: ICS VIllage
OWASP
The CISO Track
Her services include:
Logo design
Brand identity
Shirts
Coins
Stickers
Ephemera
Straight-laced branded items
Packaging
Exhibits
Anything fit to print